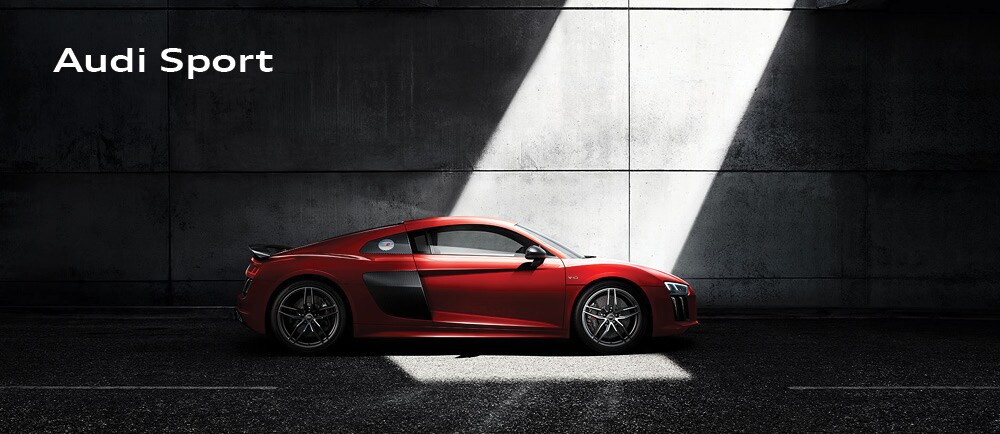 Audi Sport Models at Audi Edmonton North.
Born on the track. Built for the road.
Welcome to Audi Sport, where the spirit of racing is unleashed on the road. Audi Sport is the culmination of our high expectations, commitment to innovation, and passion for motorsport. United in their shared desire to exceed expectations, all Audi Sport models are tested on the racetrack to ensure optimal performance on the road. Reinventing the bar with sporty styling and a collection of engines that will astonish you every time you apply pressure to the throttle, Audi Sport pushes every limit. 
Audi RS 7 Sportback
Audi RS 3
Audi TT RS



4.0L twin-turbo V8
605 HP
Quattro all wheel drive




0-100 km/h in 4.1 seconds
394 HP
2.5L 5-cylinder engine 




0-100 km/h in 3.7 seconds
2.5L 5 cylinder engine
Torque 354 lb-ft. 






Audi R8
Audi R8 Spyder
Audi RS 5
 
 
 

5.2 naturally aspirated V10
0-100 km/h in 3.3 seconds
602 HP

5.2L naturally aspirated V10
0-100 km/h in 3.4 seconds
Top speed 328 km/h

2.9L TFSI bi-turbo V6
0-100 km/h in 3.9 seconds
444 HP






Tired of backseat drivers? Silence them with an Audi Sport vehicle.
 Book your test drive below at Audi Edmonton North today!
Inquire About Audi Sport Models